One of the most exciting decisions you will make in your life is to buy your own campervan. You may choose to buy a ready-made campervan or maybe you are brave enough to buy an empty van and convert it yourself. Either way, one of the major choices you will need to make is what sort of style you want for the interior.
When I was researching my book 'I Want a Campervan' I came to the conclusion that, at this point in time, there are 7 main interior styles for campervans. However, I feel that the most important thing when choosing an interior is that it makes YOUR heart sing when you open the door.
Some campers you might come across can be super-stylish and it is easy to feel like the poor relation, especially if you are on a budget. But, in my opinion, some of the best vans are the simplest and most comfy and you don't need to have a huge budget if you are creative about it.
Anyway, here is a small extract from the book that summarises the main styles you might consider for your interior.
Extract from "I Want a Campervan – Things You Need to Know Before You Buy (or Convert) a Campervan", by Summer Bourne, 2019…
One of the things I love about the campervan world is that everyone is different and as most 'vanners' are free spirits, there are some really clever and quirky designs.
Unfortunately, at the mainstream Motorhome and Campervan Shows around the country you mainly only get to see the standard, professionally converted designs and it is hard to get a feel for what all the possibilities are.
One of the deep joys of campervans is that there are many different designs and finishes and it is completely down to personal choice and we should celebrate that. What a hippy-esque, 20-something couple might go for is likely to be very different to what a retired couple in their seventies might like – but who knows!
Of course, if you want to tour all the amazing options for interiors in campervans from your chair, there is Pinterest and Instagram (I defy you not to get addicted!) and there are many Facebook groups dedicated to all sort of campervans and camping styles.
However, at the time of writing (2019), there seems to be 7 main interior design styles for campervans:
The Chintzy Cottage
This style tends to be preferred by the ladies, understandably. Inside there are usually a lot of different patterned/floral fabrics for cushions, curtains, coverings, cushions and lots of soft furnishings. The general feel is soft, bright, cosy and comfortable.
The Chrome-fest
This style tends to be preferred by the guys, understandably. Often the walls are covered in darker-coloured carpet and the furniture is clean, straight and finished with chrome. There is usually some serious lighting, usually spotlights. Furniture often comes covered in leathers. The general feel is clean, crisp, dark and a little seductive.
The 'Sauna'
These vans are lined, walls and ceiling, with wood strips which give it the sauna feel. It does give it that nice Scandinavian cabin vibe, but in my opinion, you do have to be a bit careful with this décor in a small van as it can make it feel very closed in. The general feel is warm, homely, natural and hygge (Danish for cosy).
The Whiteout
Very popular at the time of writing (2019) in both the campervan and property worlds. In this interior white is very much the dominant colour and usually the wall, ceiling and furniture are painted white with a few accents of colour. Flooring is usually a light wood laminate and worktops are often left as natural wood. This design does help a smaller space to look bigger. The general feel is clean, bright, minimal and contemporary.
The Ranch
In this design there is a lot of natural, varnished timber in the van including lining, ceiling and furniture which makes you feel as though you are in a ranch house. The furniture has a very artisan, bespoke style with unusual handles and knobs, sometimes in dark metal. The general feel is handmade, low-light and rustic.
The Hippy Hideout
The first thing you notice about this design is that it is very colourful. Often lots of high-colour and patterned fabrics such as tie-dye and batik. There is no particular design template that is carried throughout the interior – anything goes, and it feels very relaxed. The general feel is eclectic, laidback, arty and mellow.
The Stately Home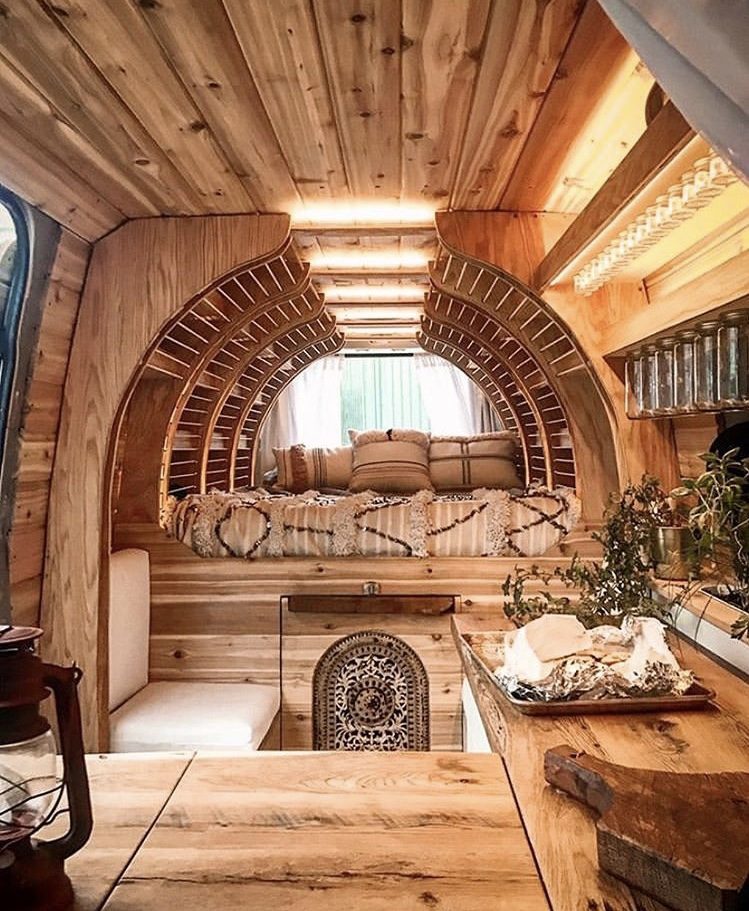 This van interior says craftsmanship and probably, significant budget. All the furniture has been beautifully finished and made by a craftsman, usually in wood but now we are talking immaculate oak or ash. Cupboard handles and hinges are all very hidden and clever. Walls, ceilings and floors are seamless and fixtures like sinks and cookers are the highest spec and wouldn't look amiss in John Lewis. The general feel is classy, smooth, comfortable and top-end.
Of course, every van is unique and there are many more individual styles and variations on a theme. The strange thing about our Vivaro campervan was that, when we started converting it, I had a very clear idea that I wanted the van to go along the 'Whiteout' road as I really like this style and I thought it would help the van feel a little bigger and brighter. However, as the build went on, the van seemed to take over and the interior is not what I originally planned although, given that it is a red, SWB van I think that what we have ended up with is better. I don't think our van falls exactly in to any of the main categories as I have kept the background colours to grey, white and cream with red accents in the soft furnishings. I guess it is just a quirky camper!
Find 'I Want a Campervan' by Summer Bourne on Amazon…
https://www.amazon.co.uk/Want-Campervan-Things-converting-campervan/dp/199990091X/ref=sr_1_1?dchild=1&keywords=i+want+a+campervan&qid=1594139784&quartzVehicle=77-976&replacementKeywords=want+a+campervan&sr=8-1