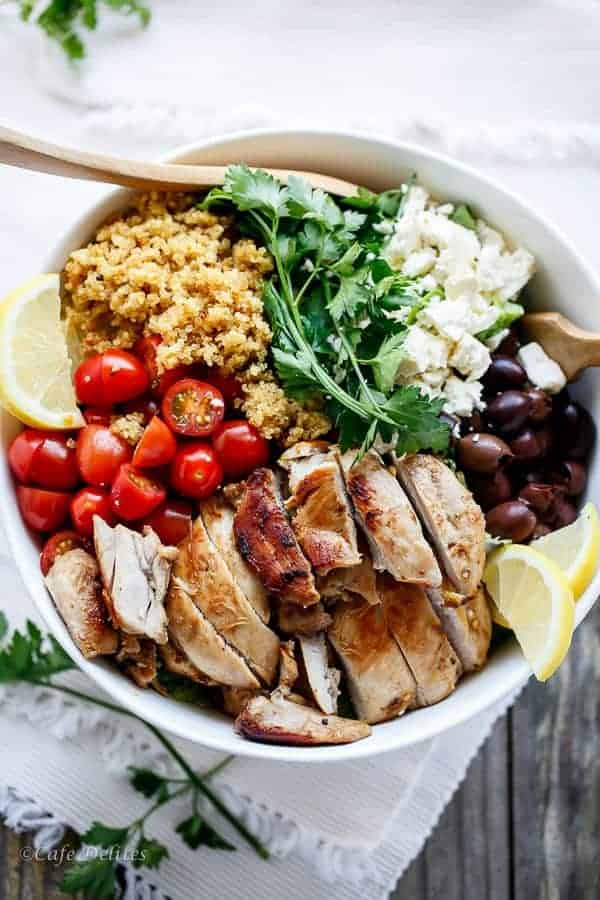 Just thought I'd share with you a meal that is ideal for when you are out in the campervan. Not only is it really easy, tasty and flexible, it's healthy too! It's called the Power Bowl (sometimes the Buddha Bowl) and it is a perfectly balanced meal that you assemble from a wide range of ingredients.
You will need a pasta-style bowl as you'll want something big enough to hold your whole meal (less washing-up, yay!) and you can include anything you want really, but there is a general template to follow…
Grains
These can be rice, quinoa, wheatberry, freekah, millet, cous cous, bulgar wheat and the brilliant thing is, you can buy these already cooked in pouches that store for ages without a fridge. They are in every supermarket and there are so many different varieties that you'd never get bored.
Protein
This can be chicken, beef, prawns, fish, tofu, tempeh, eggs, beans or legumes (like lentils or chickpeas), or cheese. Again, you can buy a lot of these already cooked in supermarkets but you can always pan fry your protein with a few herbs and spices or do my simple 10-10 Chicken or 7-7 Salmon (go to http://www.thecampercookie.com/easy-camping-recipes-the-magical-10-10-chicken/
Green Leaves/Herbs
Just use whatever you have or can get hold of like kale, spinach, lettuce, rocket, water cress for the leaves. Herbs like coriander, mint, parsley, lovage, dill, basil can add a lovely zing of taste.
Veggies
You can go for raw veggies like cherry tomatoes, cucumber, olives, celery, peppers, onions, radish, avocado, red cabbage, raw beetroot but you can also include roasted veggies like squash, sweet potato if you have access to an oven.
Dressing
Now this is what makes it super tasty. Here is where you can 'theme' your power bowl and pull it all together. You might want a Mexican theme, Asian theme, Creole theme, Mediterranean theme or Californian theme and this can all come from your dressing.
Crunch
It is extra yummy to add something that gives it a bit of a crunchy texture. There are lots of different savoury snack bags in the supermarkets now that work well just crumbed on top. As well as crisps there are: pitta chips, prawn crackers, tortillas, nachos. Or you might want to go for some pan-toasted nuts or seeds like almonds, walnuts, sunflower seeds, pumpkin seeds.
Of course, you don't have to add everything on the list, but just create from what you have in your van larder or what you can buy locally.
Recipe: Balsamic Chicken with Lemon Quinoa
One of the power bowl recipes that I like is Karina's Balsamic Chicken with Lemon Quinoa on her Café Delites blog (see link below). It includes: pan-fried chicken, quinoa, lemon, tomatoes, garlic, balsamic vinegar, feta cheese, lettuce, red onion, olives. (are you salivating yet?)
A Few Camper Cookie tips for this recipe:
Don't bother to cook the quinoa (uses gas and extra pan to wash up) just use one of the pouches of ready-cooked quinoa from the super market and dress it with the lemon as suggested. You could use cous cous, bulgar wheat or Freekah instead.
If you are going to use balsamic vinegar you do really need to get a good one as some of the cheaper ones can be a bit like paint stripper. However a good balsamic can be expensive but I have found that the 'Taste the Difference Balsamic Vinegar of Modena' from Sainsburys is excellent and costs £5.75 which is a lot less than many good balsamics.
To soften raw red onions that you are using on a salad let them sit in a red/white wine vinegar or apple cider vinegar for 20 mins while you are preparing the rest of the dish and serve them as a light pickle.
The recipe talks about using garlic olive oil (although you can just use normal olive oil). To make garlic olive oil at home just add a few, coarsely chopped garlic cloves to a small bottle of good olive and let it sit for a couple of weeks (or more). The longer you leave it the stronger it gets, and it is amazing drizzled on a pizza, too.
Check out the full recipe here: https://cafedelites.com/balsamic-chicken-salad-lemon-quinoa/
Check out YouTube video on how to make a power bowl